New Algorithmic Age: Russia Is Betting On AI For Its Future + 94 New Developments
For the past several years, Russia has been making incredible advances in artificial intelligence (AI). From AI that can detect "ethnic conflicts" at an early stage to autonomous robots that guard Russian missile silos, Moscow has been using AI to boost its capabilities in strategic areas. For Russia, AI has not been an "all or nothing" competition like it has been for other countries. Now, this may be changing. Recently, Russia's deputy prime minister, Maxim Akimov, announced that the government will be sharing a new AI-plan with Russia's president, Vladimir Putin, in the "near future" (covered below in 'Economy'). This plan, which has been in the works for several months, will make Russia a leader in AI by 2030. The stakes for Russia have never been greater. Traditional industries, like oil and natural gas, are losing steam; the global economy is slowing down; hotspots like the Middle East and Eastern Europe are growing more volatile; and a handful of nations are pivoting to new and emerging technologies to reinvent their future. For Russia, AI may allow it to augment its current economic design and grow its power in brand new ways. This, of course, adds a new variable to the geopolitics of AI. Russia, one of the most important world powers, could leverage its existing relationships, such as with India or Vietnam, to take its AI to the world. This will create new challenges, not just for Russia's current competitors, but also for China, one of Russia's closest partners. In the race to dominate AI, could Moscow and Beijing clash? In the New Algorithmic Age, every geopolitical relationship could be reconfigured. And those that were once close allies, could fast become new rivals.
---
↙ Your Algorithmic Update ↙
---
Highlights ⤵
---
1. Industry ⤵
Education
Cisco, Optus to help TAFEs prep for automation, AI (ITNews)
TAFE Directors Australia, the peak body representing 28 TAFEs and six dual-sector universities, has partnered with Cisco and Optus to bolster vocational educators' digital skills capabilities.

Instability in the workforce driven by automation, artificial intelligence and machine learning has spurred on the partnership, which seeks to get a handle on jobs being transformed and expectation of new roles within those fields.
Consulting
Spending on AI systems set to surge and consultants are going to thrive (ZDNet)
It's a great time to be an AI consultant due to a lack of enterprise expertise.

According to IDC, global spending on artificial intelligence systems is expected to hit $97.9 billion in 2023, up from $37.5 billion in 2019. Spending on AI systems will see a compound annual growth rate of 28.4% from 2018 to 2023.

More interesting are some of the takeaways from IDC's data. AI and machine learning projects have moved beyond prototyping to implementation with banking, retail and manufacturing sectors leading the AI charge. Banking will use AI for threat prevention and fraud analysis. Media, which will use AI for content management and recommendations, will spend at a five year compound annual growth rate of 33.7%. Government will also be a big spender with about the same growth rate.
Cybersecurity
BlackBerry, Jaguar Land Rover deepen tech ties with AI agreement (Autonews)
BlackBerry Ltd. will provide artificial intelligence (AI) technology to Jaguar Land Rover in a deal that further positions the Canadian software giant as a prime tech supplier for the luxury automaker.

The technology for JLR's next-generation vehicles will include predictive software maintenance and cybersecurity threat protection, Waterloo, Ont.-based BlackBerry said Thursday.

Software will come from BlackBerry's QNX division in Ottawa and Cylance, an Irvine, Calif., artificial-intelligence specialist acquired by BlackBerry earlier this year.
Apps
Grab to Spend $150 Million on AI to Build Regional Super App (Bloomberg)
Southeast Asian ride-hailing startup Grab Holdings Inc. intends to invest $150 million in artificial intelligence and hiring more engineers over the next year, accelerating an expanding business that now includes food delivery, digital payments and digital content.

Grab, in hot competition with local rival Gojek to become Southeast Asia's do-it-all super app, outlined for the first time a blueprint for its use and deployment of AI. It will build on the $100 million it has previously invested in the technology, said co-founder Tan Hooi Ling, and improve its fraud prevention and natural language processing (NLP) tech.

The company believes AI will help it better targets users across Southeast Asia, a region of disparate consumer and ethnic cultures. It credits localization for helping grow transactions on GrabFood, its food delivery platform, three-fold in Southeast Asia in the first six months. The startup doubled delivery volumes over the same period.
Oil & Gas
Brazilian oil and gas giant Petrobras to focus on robotics and AI (ZDNet)
Brazilian oil and gas giant Petrobras is looking to ramp up its efforts around areas such as artificial intelligence and robotics through a program of work with startups.

The tender launched on Wednesday (4) seeks to attract projects from small innovative ventures that address challenges proposed by the company for the creation of offerings based on technologies such as robotics, artificial intelligence, wearables and nanotechnology.

According to the tender notice, up to 10 projects across six different areas will be supported by the program, with 10 million reais ($2.4 million) being invested in total, with individual projects receiving funding that will range between 500.000 reais ($122.000) and 1.5 million reais ($299.000).
Intellectual Property
Google files patent for using A.I. to track a baby's body and eye movements (CNBC)
Google's hefty investment in artificial intelligence might be making its way to the crib.

According to a patent application filed last year and published on Thursday, Google is researching technology that could track a baby's eyes, movements and sounds using "intelligent" audio and video. If the behavior seems abnormal, the cloud-based system would notify parents on their device.
Self-Driving
DeepMind, Waymo Team Up to Boost AI Accuracy in Self-Driving Cars (Electronic Design)
It takes a lot of training to refine and improve the artificial-intelligence (AI) algorithms that power self-driving vehicles. Unfortunately, the training process is inherently inefficient as it typically requires either use of a massive amount of computing power to train neural nets in parallel or else researchers have to spend time manually weeding out bad systems.

Recently, however, and with the help of its sister company DeepMind, Waymo reports it has found a way to improve AI algorithms for autonomous driving by making the whole training process faster and more effective.
Appliances
LG presents next-generation AI-powered appliances (The Korea Times)
BERLIN ― LG Electronics will expand the number of "artificial intelligence (AI) powered" connected devices to solidify its leadership in the appliance business, its Chief Technology Officer Dr. I.P. Park said Thursday.

The tech giant hosted the LG Future Talk conference a day before the IFA tech trade fair officially kicked off in Berlin and shared its vision for an AI technology-powered future in front of 300 industry officials and reporters.

Stressing that the company's three key pillars of AI strategy are "evolve, connect and open," Park said LG's continuing effort for AI innovation and connectivity will improve the quality of life for its customers.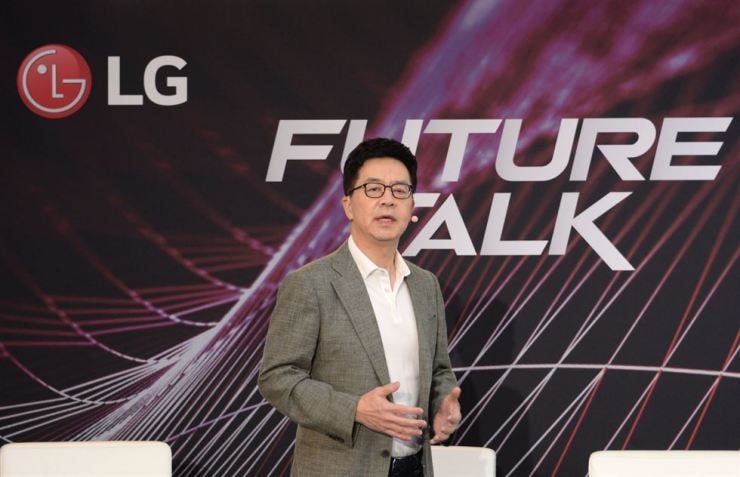 Chips
Samsung combines 5G, artificial intelligence in new smartphone chip (ABS-CBN)
MANILA -- Samsung has announced its first mobile processor that combines artificial intelligence capabilities with a 5G modem, ahead of the rush of new devices from rivals Apple and Huawei.

Aside from supporting devices that work on the new connectivity standard, Samsung said the Exynos 980 improves camera performance. It can also run multiple apps, intricate UX designs and high-resolution graphic games.
Travel & Tourism
Tech startups tout AI to airlines seeking revenue boost (Reuters)
SINGAPORE (Reuters) - Technology startups are luring airlines with demand-forecasting tools powered by artificial intelligence (AI), promising to boost efficiency at a time of rising fuel costs and upheaval in trade relations that has clouded the aviation sector's outlook.

Demand intelligence firm PredictHQ on Tuesday announced product Aviation Rank which alerts airlines to major events, whereas software developer Volantio is touting Yana, a platform that helps carriers rebook customers to maximize revenue.
Facial Recognition
Moscow to Deploy Facial-Recognition Tech at Rallies (The Moscow Times)
Moscow City Hall's IT department has placed the $4 million facial-recognition technology order with a subsidiary of tycoon Vladimir Yevtushenkov's conglomerate AFK Sistema, Vedomosti reported, citing public procurement documents.

The Sitronics tech firm will reportedly install cameras at protest routes and live stream the demonstrations to Moscow security officials. Its representative has vowed to study potential liability for violations of the system and whether it would need to obtain permission to use people's captured images, Vedomosti reported.
Space
Chandrayaan-2 Pragyan shows how AI is helping space exploration (LiveMint)
Note: India's moon mission was not successful. Read here to learn more.
Bengaluru: As India's second mission to the moon, Chandrayaan-2, is poised to make a soft landing on the southern surface of the moon in the early hours of Saturday, the artificial intelligence (AI)-powered rover of the Indian Space Research Organization (ISRO), will play a significant role in this mission's success.
The AI-powered Pragyan rover, which can communicate only with the Lander, includes a piece of motion technology developed by IIT-Kanpur researchers that will help the rover manoeuvre on the surface of the moon and aid in landing. The algorithm will help the rover trace water and other minerals on the lunar surface, and also send pictures for research and examination.
Sports
Stadium Weeds Out Disruptive Fans With Facial Recognition (WSJ)
European soccer fans who throw their drinks or otherwise disrupt games are sometimes banned. If they try to sneak in, they may have to contend with a facial-recognition system at the stadium.

Danish club Brondby IF installed security cameras and software developed by Japan-based electronics firm Panasonic Corp. in mid-July at its stadium on the outskirts of Copenhagen. The club uses the system to spot banned fans from a blacklist of about 50 to 100 people each game in a crowd that can reach 25,000.
Event services with artificial intelligence as MYLAPS and MIRO AI partner-up (Endurance Business)
MYLAPS Sports Timing and Miro AI have joined forces to introduce new 'ground-breaking event services for sports events with the use of photo, video and artificial intelligence (AI).' MYLAPS adds that this long-term partnership will result in new solutions and business models for events to enhance the event experience for athletes, fans and sponsors.

MYLAPS is an inventor of automated sports timing and a leader in live performance insights. The company is headquartered in the Netherlands and has offices in the United States, China, Australia, Japan and Malaysia.
Music
How YACHT Used Machine Learning to Create Their New Album (WIRED)
So when Evans showed up at Google I/O this summer, we knew she wasn't merely making a marketing appearance à la Drake or The Foo Fighters. In a talk titled "Music and Machine Learning," Evans instead walked a room full of developers through a pretty cool open secret that awaited music fans until this weekend: YACHT had been spending the last three years writing a new album called Chain Tripping (out yesterday, August 30). And the process took a minute because the band wanted to do it with what Evans called "a machine-learning generated composition process."

"I know this isn't the technical way to explain it, but this allowed us to find melodies hidden in between songs from our back catalog," she said during her I/O talk. "Here's what the user-facing side of the model looked like when we recorded the album last May—it's a Colab Notebook, not the kind of thing musicians usually bring into the studio."
Audio Network Partners with Musiio to Harness the Power of AI (Martech Series)
Audio Network Limited, one of the world's largest independent creators and publishers of original high-quality music for use in film, television, advertising and digital media, continues its focus on technology by partnering with Musiio to explore the power of AI to improve customer service and delivery.

This industry first will equip the global music company with an added interface to their existing search platform, to make their catalogue of over 170,000 tracks even more discoverable, whilst keeping the human touch that Audio Network has always been known for.
Singapore-based Musiio provides a new way of "listening" to music at scale, easily searching up to one million tracks in under two seconds and supercharging a team of music researchers to increase their efficiency in responding to music briefs.
Chatbots
1st AI driven contact center chatbot launched in Fiji (China.org)
SUVA, Sept. 5 (Xinhua) -- Fiji launched Thursday its first Artificial Intelligence (AI) driven contact center Chatbot, a software that uses AI and Machine Learning technologies to simulate a conversation with a user in natural language through messaging applications, websites and mobile apps.

According to Fijivillage news website, launched by Vodafone Fiji, a mobile telecommunications company, "Joe" is designed to improve customer experience, allowing a seamless conversation for several queries.
Charities team up with JBI Digital to launch chatbot service (Prolific London)
Missing People, Children In Need, and the NSPCC have launched IsThisOK?, a new chatbot service.

The service is designed to provide support and reassurance to young people between the ages of 13 and 18 and who are vulnerable to abuse or exploitation.

The project was delivered by agency JBI Digital, which performed the work pro bono.

JBI also developed a brand for IsThisOK?, along with a forthcoming marketing campaign.
KLM Airlines master social media chatbots and responses to passengers inquiries (Vents Magazine)
KLM Royal Dutch Airlines is making the one step further in utilizing man-made reasoning (AI) inside its internet based life administration. KLM worked with AI leader, DigitalGenius, to add computerized answers to general tedious inquiries from clients without the intercession of a human administration operator. This gives KLM operators more opportunity to concentrate on inquiries in discussions with clients that require a human methodology. KLM is the main carrier to offer a blend of human operators and man-made brainpower in a solitary discussion on Twitter, Messenger and WhatsApp.

KLM gets over 130.000 notices by social media channels every week. This number has developed since the presentation of WhatsApp as an administration channel. A committed group of 250 online networking administration operators by and by takes part in 30,000 discussions every week. By and large, discussions comprise of five or six inquiries and replies among KLM and its clients. Questions that can be addressed consequently with the utilization of man-made brainpower for the most part come toward the start of the discussion.
Healthcare
Israeli hospital sets AI system for remote detection of medical deterioration (Xinhua)
JERUSALEM, Sept. 4 (Xinhua) -- Ichilov Hospital, one of Israel's three largest hospitals, announced on Wednesday that it has launched an artificial intelligence (AI) system to remotely monitor patients' condition, identify medical deterioration and immediately alert the medical staff.

The system, which consists of sensors and cameras, monitors the condition of patients who are not connected to a personal monitor and, if necessary, alerts the medical staff.

The system is supposed to solve a typical problem in Israeli hospitals where a few nurses must look after many patients, failing to be always possible to notice a medical deterioration in time.
Microsoft Teams Up With AstraZeneca on AI Incubator (Bloomberg)
Microsoft Corp. is teaming up with U.K. drugmaker AstraZeneca Plc on creating a health-tech incubator in Paris aimed at bringing new solutions to the field's most difficult problems.

Startups joining the AI Factory for Health will gain access to AstraZeneca's clinical expertise and legal skills, along with its links to health-care establishments and data, the companies said in a statement. Microsoft will provide technological skills and the services of its Azure cloud network.

The collaboration builds on Microsoft's AI Factory, which has already supported 27 startups in various fields. It also involves Inria, the French national research institute for the digital sciences, and venture capital investors Partech Partners and Serena, according to the statement.
---
2. Funding + Investments ⤵
Vic.ai, AI platform for accountants, gets $11.2M Series A funding (Accounting Today)
Underlying the rapid advancement of artificial intelligence technology is a question: Will AI eventually replace an accountant's function? Vic.ai, a New York-based startup, is taking a different approach. The company wants to develop AI that helps humans — specifically accountants — perform better.

Its message resonates — the company just closed an $11.2 million Series A funding round, led by GGV Capital with participation from new investor Costanoa Ventures and seed round lead investor Cowboy Ventures. Jeff Richards, managing partner of GGV Capital, will join the Vic.ai board of directors; and Vic.ai plans to accelerate the growth of its team with top-tier engineering, product development, support, sales and marketing staff.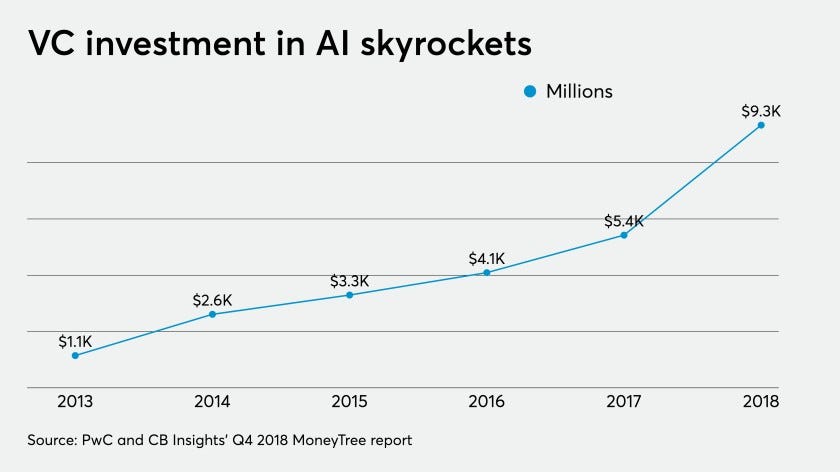 AI startup My Intelligent Machines raises $2.6 million seed round (Betakit)
Montreal-based My Intelligent Machines (MIMS), which is developing a platform to help life sciences companies maximize their R&D and production activities, has closed a $2.6 million seed round.

"MIMS will contribute to life sciences companies that are ready to welcome the artificial intelligence era."

The round saw participation from Anges Québec, Anges Québec Capital, Consortium MedTeq, Desjardins Capital, Real Ventures, and StandUp Ventures. With this funding, MIMS intends to develop solutions that allow life scientists to stratify human, animal, and plant populations through artificial intelligence and big data, without needing expertise in data science or bioinformatics.
Cogito raises $20 million to grow its emotion detection AI (VentureBeat)
Cogito today announced the close of a $20 million funding round to grow its emotion detection offering that lets health care and insurance companies assess customer service satisfaction.

The $20 million round had participation from New York Life Ventures, Goldman Sachs Ventures, and Salesforce Ventures. A company spokesperson declined to state which investor led the round.
The new funds will be used to expand Cogito's existing offerings to do things like provide more insights for managers and employees using the startup's Coaching AI system, offer behavioral coaching, and create new behavior models to predict company outcomes.
AI Upstart SenseTime's Valuation Passes $7.5 Billion, CEO Says (Caixing Global)
(Bloomberg) — SenseTime Group Ltd.'s valuation surpassed $7.5 billion this year after the company secured investments from backers like SoftBank Group Corp., yet the world's largest AI startup said it's in no hurry to go public.

The Chinese startup has been hosting regular roadshows around the world to educate investors on a business that now runs the gamut from facial recognition to robot delivery, Chief Executive Officer Xu Li told Bloomberg's Sooner Than You Think conference in Singapore. It's using the funds raised to drive forays into areas such as semiconductors as it spent the past two years developing an artificial intelligence training chip that Xu said may complement industry-leading products from Nvidia Corp.
---
3. Advances ⤵
Deep-learning AI technique helps scientists see more clearly inside the cell (Statnews)
You're looking at two versions of the same video of a moment in a single cell, captured under a powerful microscope. The red and yellow structures are mitochondria, and the inset magnified in the bottom left hand corner in each view captures a mitochondrion dividing.

The view on the left shows the raw data as it came off the microscope; you might think of it like a social media influencer's first take, before any filters have been applied to get that Instagram-ready look. And the view on the right? That's the same data after scientists processed it with software powered by deep learning, an artificial intelligence technique that's swiftly gaining traction in biomedical science.
Researchers Use Big Data And AI To Remove Legal Confidentiality (Forbes)
"Legal confidentiality is a shield for citizens." These are the words of Shami Chakrabarti, the one-time director of the U.K.-based human rights group Liberty, speaking in 2018.

Well, it seems that this shield has just been broken, because researchers at the University of Zurich in Switzerland have published a study in which they were able to identify the participants in confidential legal cases, even though such participants had been anonymized.

How did they do it? By using a combination of artificial intelligence and big data. By harnessing these technologies in tandem, the study's authors could mine over 120,000 public legal records and then use an algorithm to identify connections between them. Described as "linkage," this process enabled the researchers to identify anonymous parties mentioned in public records of Swiss Supreme Court decisions, simply by linking anonymous records to those where various pieces of information was given.
Allen Institute's Aristo AI makes breakthrough, passes eighth-grade science test (Techspot)
The good news is that someone has finally managed to do it, but unfortunately Paul Allen passed away in 2018 after struggling with cancer. The Allen Institute for Artificial Intelligence -- also known as AI2 -- recently unveiled an AI that passed the test with flying colors. Specifically, it was able to answer over 90 percent of the questions found on a standard eighth-grade science test and over 80 percent on a 12th-grade one.

The AI called Aristo achieved no small feat, but it's worth noting the tests normally include questions that require students to interpret pictures and diagrams and those were removed for Aristo, as the researchers have yet to implement the skills required -- they include a complex mix of natural language processing and computer vision.
A.I. researchers create a facial-recognition system for chimps (Digital Trends)
From unlocking smartphones to spotting criminals in crowds, there's no shortage of reminders that facial recognition technology has gotten pretty darn good. Among humans, that is. But now researchers from the U.K.'s University of Oxford and Japan's Kyoto University want to expand the tech's capabilities — by making a facial recognition system that works with chimpanzees, too.

The A.I. system showcased an impressive recognition accuracy level of 92.5%. It was able to correctly identify a chimp's sex 96.2% of the time. In a competition against humans, the system was 84% accurate when asked to identify chimps in 100 random still images. Humans managed precisely half as well, guessing the chimps' identity correctly just 42% of the time. But the real improvement was time. Humans took 55 minutes to complete the task, whereas machines took just 30 seconds.
Artificial Intelligence Can Spot Plankton from Space (EOS)
Scientists mimicked the neural networks of the brain to map phytoplankton types in the Mediterranean Sea. A new study published in the Journal of Geophysical Research: Oceans presented a new method of classifying phytoplankton that relies on artificial intelligence clustering.

Phytoplankton blanket surface waters of the world's oceans, and pigments in their cells absorb certain wavelengths of light, like the chlorophyll that gives plants their green color. Viewed from space, the color of the ocean's surface changes depending on the phytoplankton growing there. In the Mediterranean Sea, where the latest study focused its efforts, an array of phytoplankton species bloom throughout the year.
A.I. technology could identify those at risk of fatal heart attacks, research claims (CNBC)
Researchers at the University of Oxford have developed artificial intelligence (AI) technology that could identify whether someone is at high risk of a fatal heart attack years before it occurs.

Machine learning has been used to create a fingerprint called a "fat radiomic profile." It's able to identify "red flags" such as inflammation, scarring and changes in blood vessels that supply blood to the heart. Factors such as these point to future heart attacks.

In an announcement Wednesday the university said that when a patient arrived at hospital experiencing chest pain, a "standard component of care" was for a scan of the coronary arteries to take place, something called a coronary CT angiogram. If no significant narrowing is found, then patients are sent home. The university added that the problem was that some patients would still go on to have a heart attack in the future.
Machine learning and its radical application to severe weather prediction (University of Wisconsin)

The fields of atmospheric science and satellite meteorology are ideally suited for the task, offering a rich training ground capable of feeding an AI system's endless appetite for data. Anthony Wimmers is a scientist with the University of Wisconsin–Madison Cooperative Institute for Meteorological Satellite Studies (CIMSS) who has been working with AI systems for the last three years. His latest research investigates how an AI model can help improve short-term forecasting (or "nowcasting") of hurricanes.

Known as DeepMicroNet, the model uses deep learning, a type of neural network arranged in "deep" interacting layers that finds patterns within a dataset. Wimmers explores how an AI system like DeepMicroNet can supplement and support conventional weather prediction systems.
---
4. Jobs + Work ⤵
With AI and automation growing, 120 million workers will need retraining (Business-Standard)
More than 120 million workers globally will need retraining in the next three years due to artificial intelligence's impact on jobs, according to an IBM survey.

That's a top concern for many employers who say talent shortage is one of the greatest threats to their organisations today. And the training required these days is longer than it used to be — workers need 36 days of training to close a skills gap versus three days in 2014, IBM notes in the survey.

Soft Skills

Some skills take longer to develop because they are either more behavioral in nature like teamwork and communication or highly technical, such as data science capabilities.
Why Fast Food Is the Ticking Time Bomb of Job Automation (Gizmodo)
On Tuesday, the automation-focused meme candidate Andrew Yang tweeted, "Fast food may be first." He was commenting on a new CNBC report that reported annual employee turnover rates of 100 percent at the Panera Bread chain—a figure that is low for the fast food industry, which can see annual turnover of up to 150 percent. Those figures may seem ridiculous, but they're a reality: The fast food restaurants regularly see more than their entire workforce turn over every year. And that is why industry experts—and Andrew Yang—warn that it's ripe for automation and may be the first field to become entirely automated.

They're right that fast food is as ripe as any industry is for transformative automation. Typically, one of the major sources of resistance to automating a process, task, or entire job is the impact it will have on a salaried employee. Layoffs look bad for the company doing the automating, there are myriad social factors in play that create resistance—management will be reluctant to fire longtime employees, for one—and there is risk involved in setting up new machinery, which may take years to get running smoothly.
Gen Z Is Already Afraid Automation Will Eat Their Jobs (Gizmodo)
A survey of 500 18- to 23-year-olds conducted by Lucid Research found that the majority (57 percent) are worried automation will negatively impact their jobs, and about a quarter (23 percent) of them said that they were seriously concerned about the prospect. (As always, take this market research with a big old grain of salt—the firm that commissioned the study is Nintex, a "provider of workflow automation solutions," and one of its suggestions in response to the data is that its prospective clients "build an empowerment narrative around AI and automation.")
Other research supports the notion that Gen-Zers are nonetheless worried companies will deploy automation to erode their job security: A recent Indeed survey of 2,000 workers also found that young adults were worried about automation (though not as much as those aged 25 and up). Previous Pew Research has found that after automation hit younger workers, they became (quite understandably) pessimistic about technology in general.
Darktrace launches "Cyber AI Analyst" as skills shortage intensifies (New Statesman)
Darktrace has launched a "Cyber AI Analyst" that it claims can generate written reports outlining the path of complex cyber attacks.

Industry researchers claim the technology could alleviate the cyber skills shortage by freeing up security workers to spend more time improving defences.

The number of business reported to have a "problematic" shortage of security workers has risen to more than 50 per cent in the last two years and it's feared that in the UK, Brexit could further shrink the talent pool.

Darktrace has offered products which can respond to certain kinds of incidents autonomously since 2016. But the AI analyst has been designed to collect an array of data from a network to identify each part of a multi-stage attack.
80% of employers not worried about unethical use of AI (ITNews Africa)
A new Workplace Survey has found that 64 per cent of the employers expect their companies to be using AI or advanced automation by 2022 to support efficiency in operations, staffing, budgeting or performance, although only 25 per cent are using it now.

The survey further states that in spite of the growing trend, 54 per cent of employers questioned say they are not troubled that AI could be used unethically by their companies as a whole or by individual employees (52 per cent). Employees appear more relaxed than their bosses, with only 17 per cent expressing concern about their companies.
A third of experts predict cybersecurity won't need human decision-makers within a decade (Verdict)
In a survey cybersecurity experts conducted at Info Security Europe by One Identity, 33% of cybersecurity experts said that they believed there would be no need for humans to be involved in the cybersecurity decision making process in less than ten years.

A further 13% said they thought this would happen in more than ten years, while 14% said they thought there was already no need for humans to make such decisions thanks to the rise of AI in cybersecurity.

Only 40% said they thought that AI would never become advanced enough to remove humans from the cybersecurity decision making process.
---
5. Public Policy ⤵
Mayor de Blasio's 'robot tax' aims to save workers from the 'threat of automation' (Fox Business)
Threats against the American workforce have New York mayor and Democratic presidential hopeful Bill de Blasio taking aim at robots and an automated future. "If a company is gonna put thousands of people out of work, they should bear responsibility for making sure that those folks get a new job," de Blasio told FOX News' Tucker Carlson Thursday.

The Big Apple's CEO has created a "robot tax" and a larger automation policy all designed to "protect working people whose livelihoods are threatened by the unchecked growth of automation," according to a campaign press release.

"Thirty-six million jobs that could be made obsolete [by automation]," de Blasio said. "We're talking as early as 2030." His "robot tax" would require corporations where automation eliminates jobs to pay the equivalent of five years' worth of payroll taxes upfront for each worker whose job was eliminated.
YouTube Will Rely on Spotty AI to Comply With FTC Settlement (Bloomberg)
YouTube will stop selling personalized ads on videos aimed at children as part of a regulatory settlement on Wednesday. But the company's plan relies on technology that has struggled to make nuanced decisions in the past.

The Google unit will use artificial intelligence to identify which videos are aimed at kids, then cut those clips off from targeted ads.

It's a plan politicians and consumers have heard before. YouTube has used AI for years to find and take down unwanted content including pornography, terrorist propaganda and extreme violence. Other tech companies, such as Twitter Inc. and Facebook Inc., have said AI is the answer to their problems too, from online harassment to election meddling by foreign states.
VIDEO: Singapore Minister Iswaran on AI, U.S.-China Spat, Trade (Bloomberg)
Portland officials want to ban private use of facial recognition technology, citing 'accuracy problems' (Geekwire)
Portland City Commissioner Jo Ann Hardesty wants to adopt what could be the most far-reaching ban on facial recognition technology in the country.

Later this month, the city council is expected to evaluate a facial recognition ban proposal which could prevent government agencies from using the identification technology — but that's not all.

Unlike other city-wide bans that stop at government use, Hardesty supports restrictions that would make the controversial technology off-limits to Portland businesses such as retailers using it to discourage would-be thieves from entering their stores, or corporations using it for employee identification and surveillance.
Police Use of Facial Recognition Is Accepted by British Court (NYTimes)
LONDON — In one of the first lawsuits to address the use of live facial recognition technology by governments, a British court ruled on Wednesday that police use of the systems is acceptable and does not violate privacy and human rights.

The case has been closely watched by law enforcement agencies, privacy groups and government officials because there is little legal precedent concerning the use of cameras in public spaces that scan people's faces in real time and attempt to identify them from photo databases of criminal suspects. While the technology has advanced quickly, with many companies building systems that can be used by police departments, laws and regulations have been slower to develop.
---
6. Governance ⤵
AI Lab will 'train' algorithms and develop frameworks, Hancock says (Digital Health)
Appearing via video at NHS Expo, the health secretary said the lab was part of a "major transformation" to improve digital health and patient experience.

"[The lab] will boost the national research capability with a controlled environment where we can train algorithms, trial new concepts and scale up the best ideas," he told the audience in Manchester.

"Crucially, it will ensure we get the right laws and ethical frameworks in place as well as the right technology. This is ultimately what it is all about.
Most Americans Trust Cops With Facial Recognition Tech (Futurism)
A new survey into Americans' feelings about facial recognition tech found that most are ready to put it into the hands of law enforcement agencies — but it also revealed that the average person's understanding of the capabilities and shortcomings of the tech remains weak.

A nationally representative Pew Research Center survey of 4,272 American adults found that 56 percent trust law enforcement agencies to use the tech responsibly, while 59 percent said they'd be in support of its use to monitor public spaces for security threats.

Americans were far less supportive of the use of facial recognition by the tech and advertising industries, however.
China to curb facial recognition and apps in schools (BBC)
The Chinese government says it plans to "curb and regulate" the use of facial recognition technology and other apps in schools.

The pledge came from Lei Chaozi, director of science and technology at China's Ministry of Education.

It follows reports a university in China was trialling the technology to monitor the attendance and behaviour of students in class.

The pilot project was met with criticism online over privacy concerns.

Images appeared to show China Pharmaceutical University (CPU) in Nanjing, Jiangsu Province, using the technology at school gates and dormitories.

Last year a similar network of monitoring devices, able to give teachers real-time feedback on student concentration levels, was reportedly installed at a high school in Hangzhou.
An AI-Run World Needs to Better Reflect People of Color (WIRED)
The AI market is expected to grow to well over $100 billion by 2025. We're just a stone's throw away from a voice-activated, facially recognized, algorithm-driven life. But, for a rapidly growing segment of the population, AI can be more triggering than innovative. Much of the data being used to train machine learning algorithms, which power the AI movement, doesn't take ethnicity or race into consideration. To a layperson or someone disconnected from many of the day-to-day plights of people of color, this may seem inconsequential, or even race-baiting. After all, algorithms don't need to understand a user's ethnicity to make accurate recommendations and assumptions. That's the beauty of technology, right? However, the more intertwined our lives become with AI, the more biases could bloom, some of which could result in life or death. Before AI exacerbates inequities throughout society, we must include and protect minority data today.
People in the Nordics are worried about the development of AI – personal data processing a major concern (WebWire)
The biggest concern about letting AI handle personal data is linked to a fear of it being misused (55 per cent state this), used for wrong and immoral purposes (46 per cent), used in an unsafe way (49 per cent), or that misinterpretations can occur (53 per cent).

Christian Guttmann, Global head of AI and Data Science at Tieto, understands Nordic consumers' concerns and believes that organizations must take these concerns seriously during their digital and AI transformation journey.
Many see the need for regulations and 80 per cent think that the government in respective country should regulate the development and use of AI to some degree. 86 per cent also believe that companies that develop and use AI should be bound by ethical guidelines and regulations to some extent.
---
7. Defense + Geopolitics ⤵
Report identifies great potential for China-Arab cooperation in 5G, AI (Xinhua)
YINCHUAN, Sept. 6 (Xinhua) -- Great potential exists for China-Arab cooperation in the areas of infrastructure construction, energy, international shipping, 5G and AI, according to a research report unveiled during the ongoing China-Arab States Expo.

Entitled "Research Report on Cooperation Opportunities between China and Arab Countries in Third-party Market," the report by Xinhua Silk Road, a brand of the China Economic Information Service, hailed achievements in third-party market cooperation between both sides.

A number of projects for China-Arab third-party market cooperation in the areas of energy investment, production capacity cooperation, processing of agricultural products and cross-border e-commerce have been launched in West Asia, North Africa and countries along the Belt and Road, the report noted.
White House calls CIOs and other agency leaders to summit on federal use of AI (FedScoop)
The White House's Office of Science and Technology Policy is gathering agencies' tech leaders next week to hear about the use of artificial intelligence in government.

A "broad range" of federal IT officials — including chief information officers, chief data officers and chief technology officers — have been invited to the White House for a summit Monday to highlight current AI use cases across government and discuss future applications.

The meeting will be led by OSTP staff, namely U.S. CTO Michael Kratsios and Director Kelvin Droegemeier, in support of the Trump administration's American AI Initiative. The agency has also invited members of academia and tech companies focused on AI to attend.
The Next Battlefield: Robots & AI In Cislunar Space (Breaking Defense)
NATIONAL HARBOR: The Intelligence Community (IC) and the Pentagon are rushing to rapidly incorporate machine learning to leverage an ever-expanding pool of space data. Current efforts range from the NRO's initiative to map which tasks can be moved to machines to the National Geospatial-Intelligence Agency's AI, Automation and Augmentation (AAA) initiative to DoD's consideration of how intelligent robotics could underpin future power projection into cislunar space.

Stacey Dixon, deputy director of the NGA, said the agency's current emphasis is on implementing "automation," that is "how do you take people out of the loop" and transfer routine data sorting tasks to computers to speed up the analytical process. However, she told the 2019 Intelligence and National Security Summit sponsored by the Intelligence and National Security Alliance and trade group AFCEA that NGA is also keenly interested in "really getting to AI" that could be used in future for actual data analysis via "pattern recognition."
China urged to step up research in AI race with the US (TechInAsia)
China risks a catastrophic loss in competitive advantage to the US in AI if it does not invest more in basic research, according to Peking University professor Wang Liwei.
The next technology breakthrough is more likely to happen in America than in China because the latter trails in basic academic research, said Wang, who specializes in machine perception and is a member of the China Computer Federation's AI and pattern recognition committee. With a tech war raging, China could find itself cut off from the latest advancements in the technology, he said.

"I think the ability to make such a breakthrough represents the real level of AI development of a country," Wang said in an interview in Shanghai last week. "You can imagine what will happen if it's in the US, not in China."
Fearing 2020 'deepfakes,' Facebook will launch industry AI 'challenge' (Fast Company)
Facebook is creating a "Deepfake Detection Challenge," which will offer grants and awards in excess of $10 million to people developing promising detection tools. The social network is teaming up with Microsoft and the Partnership on AI (which includes Amazon, Google, DeepMind, and IBM), as well as academics from MIT, Oxford, Cornell Tech, UC Berkeley, and others on the effort. The tech companies will contribute cash and technology and will help with judging detection tools, a Facebook spokesperson told me.

Importantly, the group will create a benchmark tool that can be used by people developing deepfake detection tools to measure the effectiveness of their technology. The best accuracy scores will be ranked on a leaderboard. The benchmark will include a scoring system to reflect the accuracy of tools. Facebook also says it will hire actors to create "thousands" of deepfake videos, which will be used as the test material for detection tools.
The Marines Are Developing Secret Killer Robots (71 Republic)
The Marine Corps is developing a secret project titled "Sea Mob", which involves autonomous vessels capable of lethal assaults with human input. This project is part of the beginning of a new age in warfare: one that will no longer require human combatants.

The idea of killer robots is thought to be science fiction, but they already exist. Experts in the field of machine learning and military technology say "it is already possible". In China, tech companies developments in AI technology are already being used in military projects.
---
8. Economy ⤵
China to build 20 new AI innovative development pilot zones (Xinhua)
BEIJING, Sept. 6 (Xinhua) -- China will construct around 20 new artificial intelligence (AI) innovative development pilot zones by 2023, according to a recent work guideline issued by the Ministry of Science and Technology.

The guideline said the pilot zones will promote the deep integration of AI and socio-economic development, as well as improving the AI innovation ability and level.
Russian Gov't to Submit Draft AI Development Plan to Putin Soon - Deputy Prime Minister (Sputnik News)
VLADIVOSTOK, Russia (Sputnik) - The concept for the development of artificial intelligence (AI) in Russia has been agreed on, and the government will present a draft of the relevant decree to Russian President Vladimir Putin in the near future, Deputy Prime Minister Maxim Akimov said on Friday.

"We expect that in the coming days the government will present a draft decree to the president of the Russian Federation. We have completed interdepartmental approvals, coordination with the president's administration. Therefore, I think the document is in a high degree of readiness," the official told reporters on the sidelines of the Eastern Economic Forum.

Akimov added that the time frame for the signing of the decree would depend on Putin's political agenda.
In Israel, AI Pays Off, New Survey Shows (Algemeiner)
CTech – A recent survey conducted via Facebook group Machine and Deep Learning Israel has generated some interesting insights about the sector, made even more relevant by the fact that in recent years more and more multinationals have joined the battle for Israeli talent in the domain of artificial intelligence. Compiled into a report by AI consultant and group founder Uri Eliabayev and data scientist Omri Goldstein, the survey had 569 respondents of the group's 15,500 members. Of the respondents, 402 of them stated they were fully employed.

The authors cautioned that while the number of respondents was high, it was still not nearly enough data for an accurate statistical model, and that the model was not capable of identifying causality.
Secretary Perry Stands Up Office for Artificial Intelligence and Technology (US Government)
WASHINGTON, D.C.-Today, U.S. Secretary of Energy Rick Perry announced the establishment of the DOE Artificial Intelligence and Technology Office (AITO). The Secretary has established the office to serve as the coordinating hub for the work being done across the DOE enterprise in Artificial Intelligence. This action has been taken as part of the President's call for a national AI strategy to ensure AI technologies are developed to positively impact the lives of Americans.

DOE-fueled AI is already being used to strengthen our national security and cybersecurity, improve grid resilience, increase environmental sustainability, enable smarter cities, improve water resource management, as well as speed the discovery of new materials and compounds, and further the understanding, prediction, and treatment of disease. DOE's National Labs are home to four of the top ten fastest supercomputers in the world, and we're currently building three next-generation, exascale machines, which will be even faster and more AI-capable computers.
---
↙ Additional Reading ↙
---