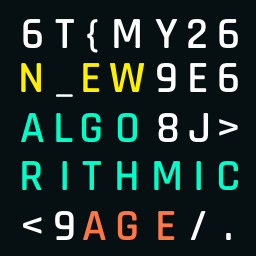 TLDR (Too Lazy, Didn't Read)
"New Algorithmic Age" is the world's first paid research feed on algorithms. It provides unparalleled insight into how algorithms are remaking jobs, economies, countries, businesses, and more. Customers get three updates every week - Tuesday, Wednesday and Thursday - that outline the most significant developments and advances with algorithms. Here's an example of what you will get 3X a week.
---
About
In a short time, algorithms, or artificial intelligence (AI), will transform your:
• Job
• Business
• Economy
• Country
• Future
Do you know how? Are you prepared for what's coming? Here are a few examples of what has happened recently:
• Sberbank, the largest bank in Russia, has laid off 3,000 employees in their legal department and replaced them with a single AI-system. At the same time, Sberbank wants to reduce its back office count from 11,000 people to 1,000 by 2021 by using algorithms…
• Emergency services across Europe are using an algorithm from Denmark that listens in on phone calls and tells whether the caller is having cardiac arrest. As the algorithm analyzes the call, it suggests what kind of questions the dispatcher should ask, and what steps can be taken…
• Lonely youth in Japan, South Korea and China are turning to "Gatebox." This is a glass tube that is see through and has an virtual, AI-character named "Azuma Hikari" sitting inside. She acts as a companion for people, texting them throughout the day, and taking steps to prepare the house before her owner returns home…
• India's military is developing "cyber twins" which are avatars of real people. These avatars will mimic the personality of a real person. And, when the real person dies, the avatar will continue to develop and evolve…
• During the 2020 general elections in New Zealand, a candidate named "SAM" will be running. SAM is an AI-politician, and is currently using Facebook Messenger to develop, by communicating with voters in New Zealand and discussing various issues, such as climate change.…
These examples are just the tip of the iceberg. Did you know about them? Did you imagine such advances taking place in your lifetime? Do you want to know what else is happening?
Then look no further than "New Algorithmic Age." This is the world's first paid research feed that provides subscribers with unparalleled insight into how algorithms are changing our world. Customers will get three feeds every week - Tuesday, Wednesday and Thursday - that show the most significant and profound ways algorithms are transforming everything. It doesn't matter who you are, or where you come from. As long as you are a person, algorithms will affect you. Even if you are not a person, algorithms will affect you. Be in the know, and be prepared.
---
Who is behind this?

Abishur Prakash manages the "New Algorithmic Age" feed on Substack. He is a leading geopolitical futurist focused on how new and emerging technologies, like robotics and artificial intelligence, will transform geopolitics. He has written four books, including Next Geopolitics: Volume One and Two, and Go.AI (Geopolitics of Artificial Intelligence). Abishur works at Center for Innovating the Future, a consulting firm in Toronto, Canada. His work has been published in a variety of outlets, including Newsweek, Forbes, Scientific American, the Senate of Canada and the Wall Street Journal. You can learn more about Abishur by visiting his website AbishurPrakash.com or following him on Twitter. For any questions or inquiries, you can contact him directly at: abishur at nextgeopolitics dot com.
---
People